This Super Star Dipping Powder Set Kit- 0.5oz is specially made for our Dipping Powder Collection. Also for our Matching 3 in 1.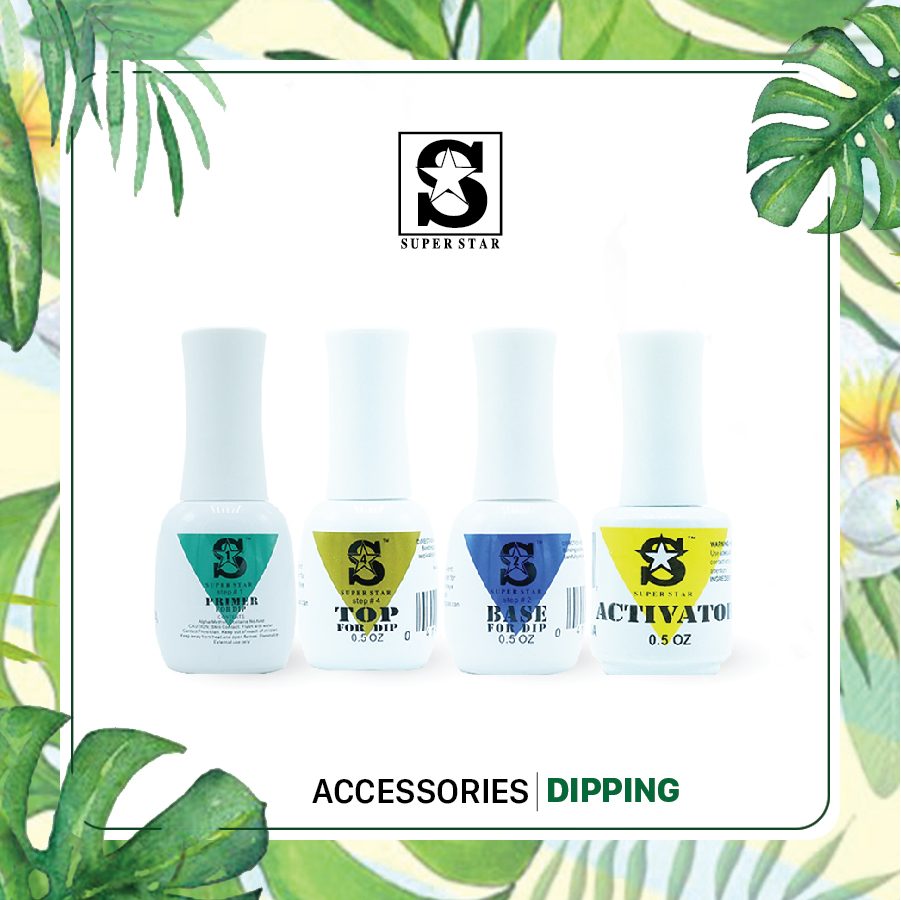 Dipping powder set kit in comes:
1. Primer for dip
Dipping Primer is a primer in the process of embedding dirt, protecting the nails from staining. Helps not to be brittle nails, moisturizing essential for nails. Help the dipping powder color in the next layer is more beautiful color and longer lasting color retention.
2. Base for dip
Base for dip – Protect nails and keep the color for up to 30 days. Super Base's Super Base for dip differs from other products on the market as there is no acid-based primer that only 100% safety ingredients in the Base. So Base for dip Super Star has the advantage:
+ Helps seal the gels firmer without damaging the nails of the user
+ Retention time up to 30 days
+ Do not take too much effort and time for the user: Time take: 3-5 minutes
+ Easy manipulation is not complicated
3.  Activator for dip
Dipping Activator for dipping powder kit is a product that helps to protect the dip powder, firmness, chip, and cracking. Make the dip powder colors more beautiful, more brilliant. If you forget to remove the activator when dipping powder is embedded, dip powder may be cracked. Activator is used in the third step of dipping.
4. Top for dip
Top for dip powder kit – Keep the ball up to 30 days. Top for dip powder by Super Star is one of the most popular nail accessories in the United States. The product differs from other products on the market with the ability to:
+ The color of the powder dipped from 3 to 4 weeks
+ Do not peel for 3 to 4 weeks
+ No need to re-wipe
+ No need to light
+ Safety for health